Vagi-Wave ™
Our Motto & Product Ethos
Vagi-Wave – NO Parabens –  NO Dyes –  NO Hormones – NO Animal Testing
ALL Vegan – ALL Organic – Meeting Cultural Need
Made with YOU in mind

All our products are manufactured and packed in the UK by us.
If your Country does not show at checkout (eg: USA) please go to:

Vagi-Wave is a "Non-Medical" Revolutionary Patented Design focusing on:
(a) vaginal approach
(b) point of insertion
(c) penetration, collectively
No 'private or down time' required. No medical intervention. No 'stretching' as is the case with dilators. Because Vagi-Wave is completely effortless and pain free.
Scientifically designed by a female-led research and development team for ease of insertion and use and to get results fast.
A "Non Medical Product" made from specific medical-grade silicone. Giving peace of mind regarding your safety with no Toxic Shock Syndrome risk. (TSS – is sometimes referred to when talking about tampons).
Free from colouring. Free from animal ingredients & animal testing.
Vegan approved.
Tactile, ergonomic, & curvaceous, follows the contours of the vagina for a perfect and comfortable fit.The Vaginismus treatment kit – that works while you sleep.
Utilises your body's own ability to empower positive change over 21 nights.
Can be used to measure pelvic floor strength and for gentle pelvic floor exercise – see 'pelvic floor' or 'FAQ' for further information.
Now being given as a Dholki and/or Walima Gift.
Mind and Body in Harmony.
Use with Water Based Lubricant ONLY.
Size: 10cm x 1.5cm (approx)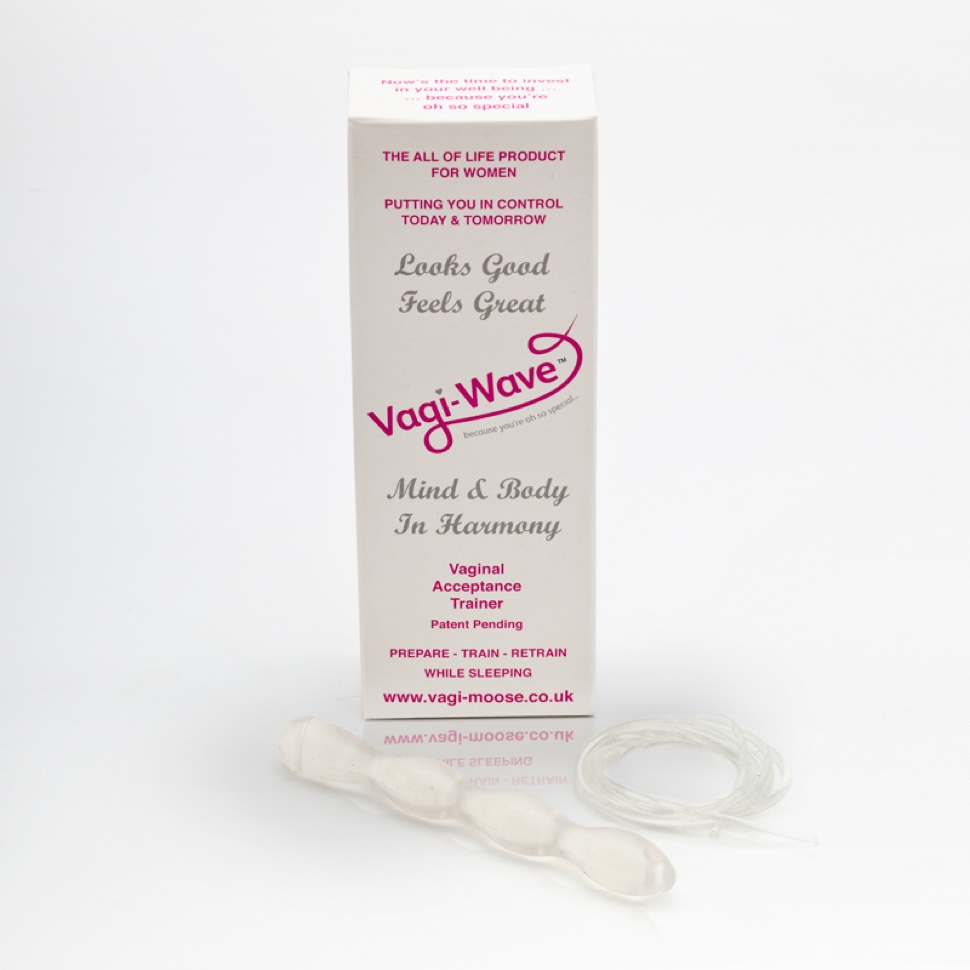 Benefits
Discretion at its best. No one need know what it is (unless you tell them).
Works while you sleep, eliminating the need to find private spare/ down time in the day.
Flexible for movement or restless sleep.
Effortlessly puts you in control to train & retrain your mind, body and pc muscles to accept insertion into the vagina for health maintenance, well-being, and pleasure.
Vagi-Wave Design
Taken from numerous internal vaginal casts, and taking into account these contours within the vagina, the Vagi-Wave will find the perfect resting place within your own vaginal contours for optimum comfort. Vegan Approved. Not for use during pregnancy.
Included in the box you will find : one Vagi-Wave, one Moose-Hoose (Cotton Bag) one Retrieval Thread.
Available to purchase separately : Moose-Joose (choice of sizes) Additional Moose-Hoose (Cotton Bag) Additional Retrieval Thread.
Vagi-Wave : Tried & trusted by women (16 years & over) to get fast results regarding health, well-being and intimacy. Perfect treatment kit for Vaginismus.
Note : Not a contraceptive & not to be used during pregnancy unless advised otherwise from a medically qualified person.